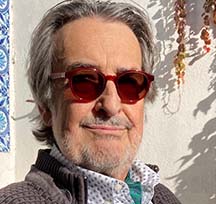 José Ramón Díaz-Torremocha
(Conference of Santa María, Guadalajara)
Email: Esta dirección de correo electrónico está siendo protegida contra los robots de spam. Necesita tener JavaScript habilitado para poder verlo.
The queue of Council members, about a dozen and a half people, moved slowly forward. The man in white stopped with each member as they came to greet him, under the vigilant gaze of the Pontifical Council's cardinal-president who introduced each of them to the Pope.

When I reached him, I found myself in front of a human being who greeted me with a warm, shy smile and limpid, clear blue eyes. As I shook hands with him, I timidly conveyed the greeting that my mother had almost ordered me to give him "if I ever saw the Pope", she used to tell me. I wanted to continue and quickly finish the greeting protocol so as not to take up more time than I should have, but he wouldn't let me. His hand held mine firmly, to the surprise of Cardinal Cordes who had introduced me and, of course, to my surprise. He asked me about my mother: how old is she, what about her health? I was impressed, above all, by his eyes, the eyes of a clean man, of a kind man, of a good man. The few moments I spent in front of him throughout the following years confirmed the impression of the first moments. He was indeed shy, but with great kindness and I would even say gentleness. Today I write under the dismay of knowing that he was on a journey, a journey that will end before the One who entrusted him with the care of His Church to which he devoted himself and to whose Founder he dedicated his last words before he gave up his soul:" Lord, I love you".

I had met Cardinal Ratzinger only a few years earlier in the refectory of Casa Santa Marta when he arrived with a companion and was placed at one of those huge round tables and, by chance, I enjoyed his company as a table and seat neighbour. He did not know me, but I knew him. Who in the Vatican would not know the Prelate for the Doctrine of the Faith? I could tell some anecdotes of my brief relationship with him over the years. But now that he is in Heaven, I would like to leave just one that had an impact on me at the time and for which I was deeply grateful.

He was a great Cardinal, a well-known Cardinal, the guardian of the Church's essence, sitting next to me, a poor, unknown layman. At that round table, the Cardinal had on his left the friend with whom he had come for lunch and on his right, the "unknown layman".

Personally, I found myself isolated. The chair on my right was occupied by a bishop who spoke "perfect" English, a language I do not speak at all, except for the usual words: thank you, good morning or good evening, excuse me and not much else. On my left, the future Pope was immediately aware of my forced linguistic reclusion and throughout the meal, certainly in order not to make me feel isolated, he spoke to me in French and even in Spanish, which gave rise to short exchanges of conversation. The result was that, without him abandoning his dining companion, I did not feel alone. It will be difficult for me to forget his friendliness, his kindness and his charity, and I have been entrusting myself to him since the day when, as I firmly believe, he began his flight to Heaven, called by the Plenitude of Joy.

After recalling this major loss for the universal Church, I cannot forget two other great personal losses that I have had in these days at the end of January 2023, when I am writing these lines. They will not move many, but they do move me.

One of them was called Ronaldo Daniel, he was one of my fellow members in Guatemala and he came back to the Lord in his sleep. He was a man of God and brought you closer to Him either by listening to him or by reading his beautiful commentaries to the Sunday readings. We met in person and shared the friendship and joy of Christ for only a few days. Then we have continued that friendship through electronic means for almost the last twenty years.

José María was another fellow member from the east of Madrid and for a while he was my "servant" in the presidency of the Madrid council of St. Vincent Conferences. I think he was aware that he was not in "office" but in a demanding "service". He also passed away around the beginning of the year 2023. He was a good physician and after his retirement and his work in his Conference, he practised medicine in a small charity Medical Centre in Madrid and in the supervision of a Dining Room of the Conferences, also in Madrid, founded by fellow members long before him.

I have included the three of them in my ever-growing list of daily prayers for so many friends who have already gone to the Father. I would like to thank them all for their example of ecclesial devotion and of perseverance. Three among the ones who have made a contribution to my life. Thank you.

Always to Christ through and with Mary.