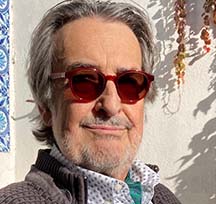 Por José Ramón Díaz-Torremocha
(Conferencia de Santa María la Real en Guadalajara)
Email del autor: Esta dirección de correo electrónico está siendo protegida contra los robots de spam. Necesita tener JavaScript habilitado para poder verlo.
Jacinto, as my readers and long-time friends know, is a very good fellow member and the very soul of his Conference. A true and hard-working member of the Conferences of St. Vincent de Paul. He always surprises me with his advice on the True Life and the nature of his relationship with the Divinity. Often, as I think I have told you before, I am amazed by his anecdotes. 
He never asks the Lord for anything. What for? he asks when he is questioned about it and adds: He knows well what I need and what I do not need. (At that time, Jesus said to his disciples: "When you pray, do not use many words, like the Gentiles, who think that if you talk a lot, they will be listened to. Do not be like them, for your Father knows what you need before you ask Him" (Mt 6:7) 
He went on and said to me: "I only like to talk to Him about "our business" but not to ask Him for myself. He knows what I need and I only "remind" Him, on some occasions, of the urgent needs of some of my friends in need, of those who are suffering and I ask Him to give me the strength to be useful to them".  I also ask Him to help me for the spreading of the Conferences in their service to those who suffer. 
Someone, insisting, asked him once: "What are you asking for yourself? Are you sure it is nothing? 
The person who told me this recalled that Jacinto, as if embarrassed, would lower his head and answer "nothing" when his questioner pressed him to explain, always saying that in his modest life, he had had everything he needed, and that, above all, the Lord already knew what he might need. And he ended by asking himself: why bother insisting and wasting time, his time, not the Lord's, who does not have time, repeating what He already knows? I only ask Him for others and I know that He likes us to ask Him as one would always ask a father. And He is the Father, he concluded. 
"To be with Him directly whenever I can in the Eucharist or with someone who suffers, who are always His Divine Majesty's favourites, and His best representation", he said very seriously with a very respectful language, but out of fashion in our times. There was no joking when he referred to God. There was a deep respect not exempt from a blissful confidence. 
Roberto, his good friend, the boy with special needs who lives under the protection of his Conference and some good Sisters, always went with him on his daily walks to see who he noticed, broken or about to break, to discover the suffering. Long walks so that, when the target arose, he could immediately notify his Conference to solve it with the "due" promptness. Roberto, blessed Roberto, seemed to have a sixth sense for detecting destitution, and sometimes he would report a case to Jacinto. Although Roberto said that he prayed a Hail Mary for all those he came across who seemed to him to be "crying inside" and who sometimes "joined him": he had not finished praying for one when another appeared "crying inside", according to his perception. 
When they returned to the Conference, usually after opening up to the Spirit, they would report on their discoveries of the day or the week, as appropriate, and not a few of them were added to the Conference's "payroll" or were regularly visited at home to spend some time playing cards against the loneliness that besieged them over some pastries, which were always provided by a fellow member, and to participate in a pleasant meeting. 
During these visits, very interesting topics sometimes came up among such simple people, confirming the Gospel assertion that the Merciful One always nourishes the humble of heart.
(Matthew 11, 25-27)
Let us always trust in Mary. Always with Mary, the best way to meet her Son, at the foot of the cross.
José Ramón Díaz-Torremocha
Conference of Santa María la Real
Guadalajara, Spain
(Esta dirección de correo electrónico está siendo protegida contra los robots de spam. Necesita tener JavaScript habilitado para poder verlo.)